What We Do
What is a Business Improvement Area (BIA)?
A BIA is a non-profit association of business owners that join together to promote and improve the economic vitality of their business district.
Worldwide there are approximately 1200 Business Improvement Areas of like Business Improvement Areas. Approximately 348 of these Business Improvement Areas are in Canada.
The main purpose of a BIA is to revitalize and maintain a dynamic commercial area and promote the area as a business or retail destination.
The mandate of a BIA is to encourage the economic and physical improvement of local businesses through beautification and maintenance of streetscapes, buildings and structures in the area, and to promote the area as a business and shopping district.
Some strategies BIAs use to achieve their goals are:

Maintenance: sidewalk cleaning, graffiti removal, etc.
Special Events and Festivals
Marketing and Economic Development: Websites, promotional materials, signage
Regulatory Advocacy and Bylaw Enforcement
Business Recruitment
Parking and Transportation Management
Public Spaces
Streetscape and Capital Improvements
Improving Open Spaces: Parks, Green Spaces, etc.

The name BRZ was changed to BIA on July 1, 2016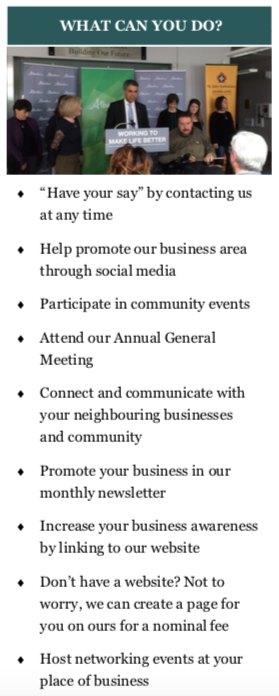 COUNCIL OF BIAs
The Edmonton Council of Business Improvement Areas consists of 13 diverse commercial districts with equal representation and represents approximately 25% of the total number of businesses in the City of Edmonton. Using a consensus method, the BIA Council markets, promotes, and advocates for the BIAs of Edmonton and encourages economic development and growth in the 13 commercial areas. The BIA Council will use its collective voice and strength to build relationships and increase awareness among stakeholders.
The Edmonton Council of Business Improvement Area aims to celebrate the diversity of the BIAs and their unique contributions to making Edmonton a livable and vibrant city with walk-able social spaces.
The 13 Business Improvement Areas in the City of Edmonton are: Alberta Avenue Business Association, Beverly Business Association, Chinatown and Little Italy Business Association, Downtown Business Association, Fort Road Business Association, French Quarter Business Association, Inglewood Business Association, Kingsway District Association, Northedge Business Association, Northwest Industrial Business Association, Old Strathcona Business Association, Stony Plain Road Business Association, and 124th Street and Area Business Association.